Thank you for your interest in hosting an event at Chase Park Plaza Cinemas. Below you will find all of the most critical information associated with private rental of an auditorium.
As we understand that every event may have its own unique needs, please consider this information as a baseline for what to expect with your booking and how to navigate the process of scheduling and paying for your event.
Note: If it helps with your decision making, the easiest days and times for us to book private events are generally Monday through Thursday, with a starting time between 8:00am and 2:00pm. Due to strict contractual obligations to our movie studio partners in Hollywood, booking private events during evening hours or on weekends or holidays is always a challenge and cannot always be guaranteed.
The most critical information we need from you:
Proposed Event Date and Event Time (when your event is advertised to begin)

Arrival Time (when you would like to have physical access into the auditorium)

Departure Time (when you would like to physically surrender the auditorium)

Will you need use of our PA system (auditorium #3 only)

Will you need any special provisions for concession purchases
Please note that there is a difference in Event Time versus Arrival Time/Departure Time. This is important information as we need to know when you'd like to actually take possession of the auditorium and when you'd like to completely surrender the auditorium.
Example:
If you schedule your event to start at 1:00pm, but you want to arrive at 12:00pm to begin setting up, we need to know that. Likewise, if your scheduled event ends at 2:30pm, but you hope to have time to mingle with guests inside the auditorium until 4:00pm, we need to know that, too. So on paper, your event may read to your guests as starting at 1:00pm and ending at 2:30pm, when in actuality your total possession of the auditorium would be 12:00pm to 4:00pm. So for scheduling and billing, the actual rental time would be 12:00pm-4:00pm.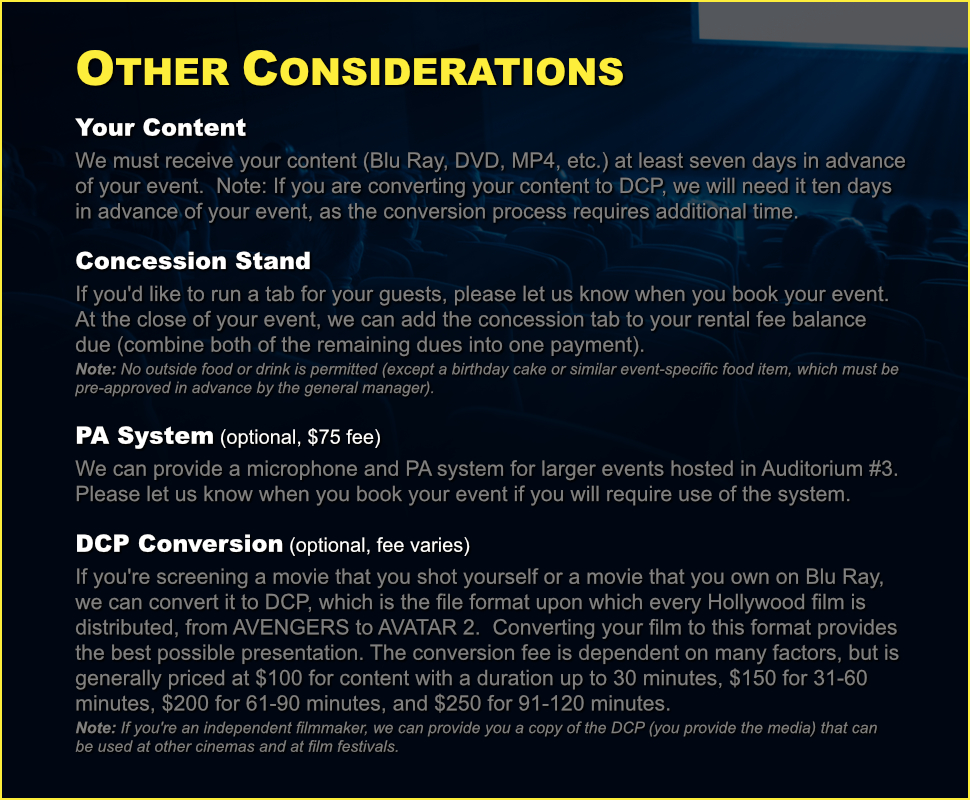 Current Concession Menu (Subject to Change):
If your're ready to submit an event proposal, please send a detailed email to
We will do our best to get back to you within 24-48 hours